Another year of Squaduary is finished and we have some great minis to show for it. I would like to thank everyone who joined in, got inspired and put some toy soldiers together and threw paint at them.
This is the fourth year of Squaduary, the final posts for each year are linked below:
2019 final post – 2018 final post – 2017 final post
This is it folks, there are no more stages. Below are the finished results.
---
Instagram users:
---
Blogs (click the names for more their posts):
I finished my Squad! Yep, not as numerous as some pledges and only 5 Marines, but the extra large weapons/packs and a unique Sergeant mini made this as challenging/time consuming – I am a slow painter!
Batch painting is the pits. Until you're done and then you're like, "Yeah baby, I'm a lean, mean painting machine!" Overcome by ADHD I kept being distracted by Evil Dead Ash. He was such a pleasing conversion, I wanted him to shine. So I just slowed down and started painting him on his own.
[DAM finished last week, check the link above for their post]
So the end of the month looms large and with it, the end of Squaduary 2020. I'm happy to report that I finished my squadron of three Vertus Praetors for my Adeptus Custodes force.
---
Folks from Stepping Between Games:
So, here they are.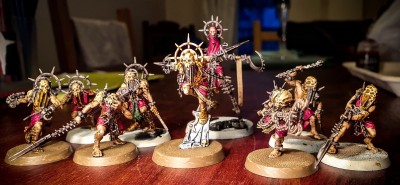 Full disclosure, I haven't finished. As you can see they're not based properly yet, and they're lacking some detail, I guess I'm about a week behind where I should be.
Nonetheless, they're not bad overall and they have successfully scared my D&D players. Not been feeling the joy of the painting this time, but that's my issue to deal with.
Thanks again to Rory for having run the event, sorry that I couldn't complete the challenge on this occasion.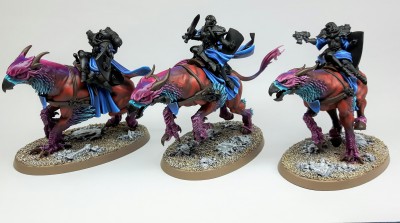 There comes a point when you just need to admit you aren't going to finish Squaduary on time. For me, this was 1.30am on the evening of the 29th. Still, the mounts are 95% done, it's mostly the girls that aren't finished…
Thousand Eyes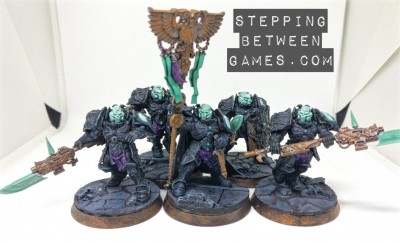 Some touch ups of the highlights and extending my spot colour, purple, across the models and we are done. Well maybe, I might come back and touch things up at some stage but that is it for the moment.
Pretty happy with how they came out in the end. Now for a squad of jetbikes.
---
We are done for another year and I am proud to see so many projects worked on. Thank you to everyone who joined in and cheered people on.