Details are starting to come together on my fun little guys/gals/things? Having a deadline always helps and in this I have a few projects in mind I want to get to but I need to get my three sets of demons done first.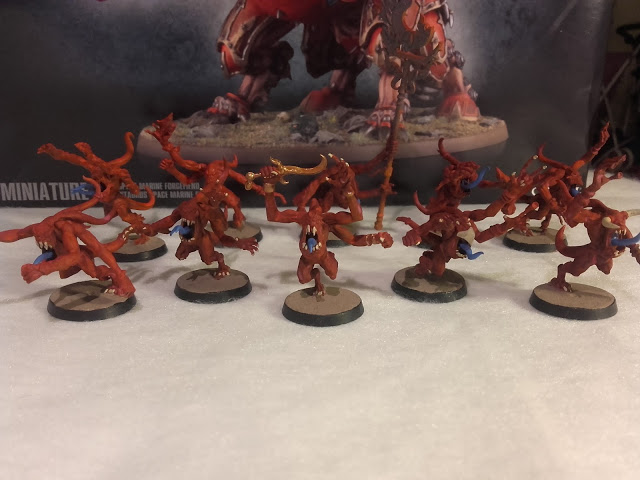 Tzeentch Horrors – Family shot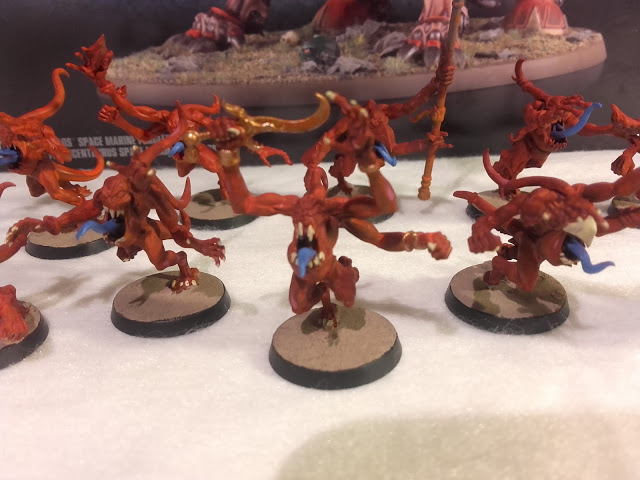 Tzeentch Horrors – Blue tounges
At this stage they all have lovely blue tounges which I think is a lovely disgusting counter point colour to the red/orange. I find it hard to narrow down the colour on them due to how it was applied and you know what? I like it. Demons are hardly meant to be totally unified anyway. Along five of them have the startings of fangs and claws though, plus the leader with his first coat of brass on his metallic bangles and little wavy dagger.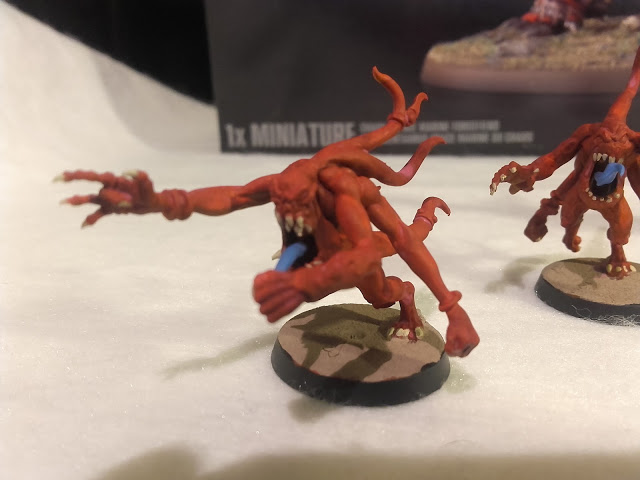 Tzeentch Horrors – Close up 1
Overall the wash/glaze has worked nicely with tying the colours in together, so thank you all that have suggested so in the previous comments. Honestly comments here have really helped my meagre painting skills grow.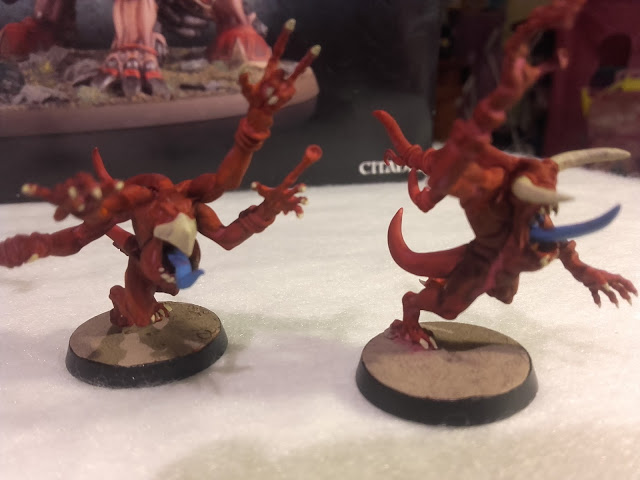 Tzeentch Horrors – Close up 2
I am thinking of doing the eyes with a yellow tint, but I am not sure how to do it beyound a flat yellow. Any thoughts?
The photos have taken another down turn on this one sadly. I will one day get an established space for it and not something I try to throw together each time. Ok it will still be 100% DIY with what I already have but still, I can tweak things as I go. While I am not sure picture quality would help my painting show up better, as I always think it looks worse in the photos, it does highlight that I need better light for painting. Time to start bringing an extra light into my sitting room as I paint I think.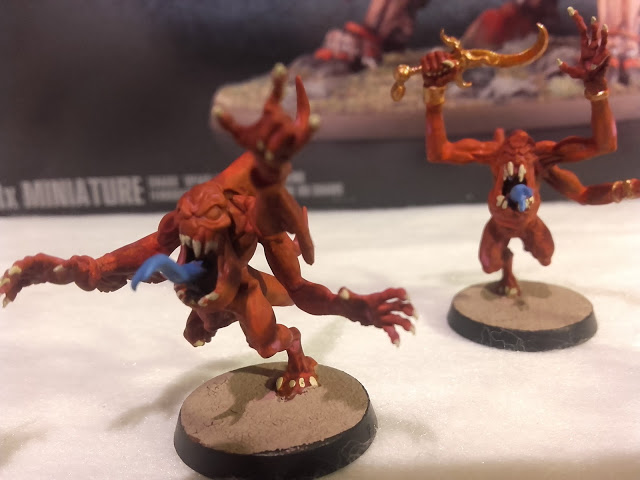 Tzeentch Horrors – Close up 3
So I've been told that the demons I am pulling together actually qualify as a legal set of allies, I am not sure how effective they would be though. More likely the models would be useful for summoning? Pretty sure as a Thousand Sons force I could summon something….
Herald of Tzeentch
Disc of Tzeentch, Psyker Level 3, The Endless Grimoire
Flamers of Tzeentch
3x Flamers, Upgrade one Flamer to Pyrocaster
Pink Horrors of Tzeentch
10x Pink Horrors, Icon of Chaos, Upgrade one Pink Horror to Iridescent Horror
Oh and in case anyone who reads this blogs don't know check out #warmongers on Twitter. The odd political post slips in but mainly it is a bunch of us dedicated to the love of the hobby. Some fantastic stuff goes on there that you won't see anywhere else.