I Thousand Eyes of the Host of Rememberance return to the E Tenebrae Lux V challenge and vow to complete the following units from Codex Chaos Daemons on or before August 15, 2016: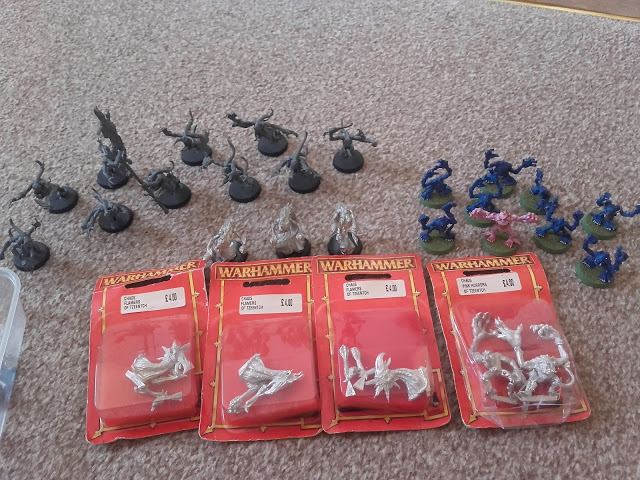 Tzeenth Demons – old and new
Yes I am returning to the E Tenebrae Lux on the Bolter and Chainsword forums, which is a fantastic forum if you like, paint or model any sort of power armour. The ETL challenge is a bit of banter between the various sub forums to see who can vow the most points. With the closing date coming this Sunday I had to put down something. As you can see I have a whole lot of demons sitting around and surprise, surprise they are from Tzeentch.
So here is what I have pledged so far. Not all ofthe above but a good start on them:
Herald of Tzeentch
Disc of Tzeentch, Psyker Level 3, The Endless Grimoire
Flamers of Tzeentch
3x Flamers, Upgrade one Flamer to Pyrocaster
Pink Horrors of Tzeentch
10x Pink Horrors, Icon of Chaos, Upgrade one Pink Horror to Iridescent Horror