Time to bring a storied character to the table. This is my attempt to upstage the glorious version done over at Mordian 7th. I will try to bring to life the character of Iskandar Khayon from the Talon of Horus novel by Aaron Dembski-Bowden, who has his own blog over here. This is a fantastic book and really sets us up for so much more, but now we wait for the next book. I could waffle on about the book for a long time but instead I recommend you read it.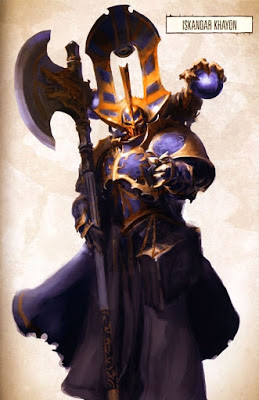 I don't know where the artwork comes from…
So this is my first go at Khayon with the model and pose pretty much locked in. Although I am tempted to try a GS cloak on him. In a first for me he is not actually attached to his base and the backpack is currently seperate as well. This will hopefully help with a higher level of painting.
Part of the trick is which scheme to go with? Mordian went with his original 30K colours, then I thought maybe to do the more 40K Thousand Sons blue or even complete his move to the Black Legion with those colours. Either way I imagine his armour will mainain the same sort of look whatever the colour.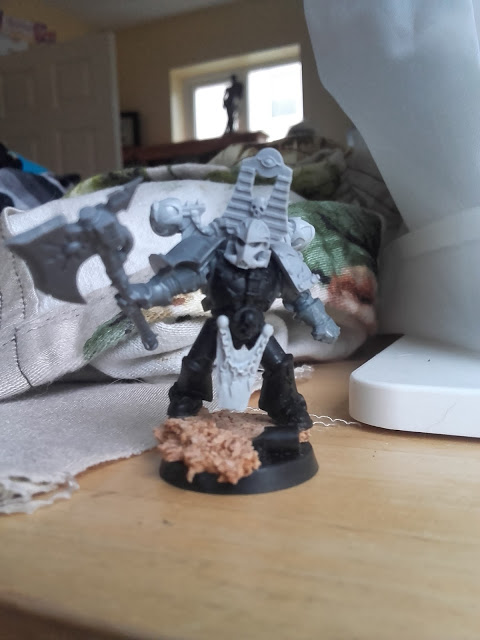 Iskandar Khayon WIP 1.
Cloak making aside I am pondering pushing the boat really out and trying to create something to mimic his deck of cards on this belt, maybe even a card in his hand. Not sure if that will be a step too far though. At the moment I am lacking a way to create a model for Gyre, his wolf familar, to accompany him. But in time that may come to pass as well.
What do you think?