Dice Throne – Season 2
Like it or not Kickstarter is here to stay in gaming circles, from big companies to small start ups, everyone is using it. In this review we will be looking at Dice Throne – Season 2. Which is currently counting down it's last two days, thankfully for Roxley Games it is already funded. In fact it is sitting on €462,372.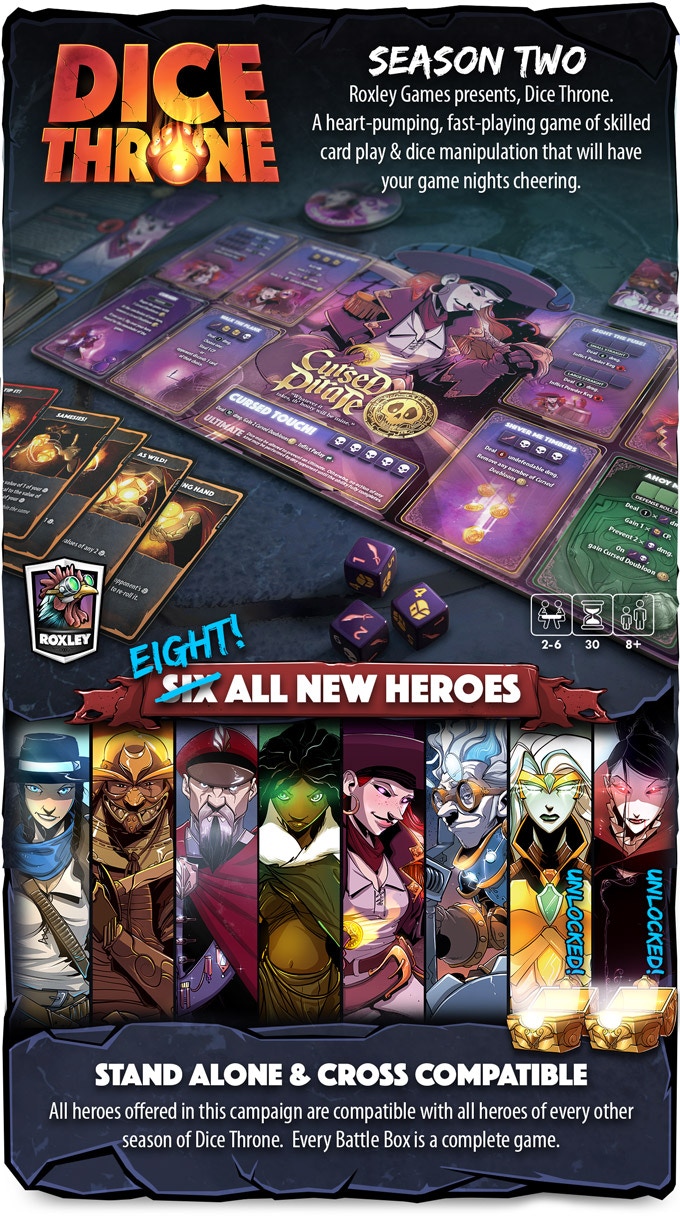 Picture belongs to Roxley Games
The game
A heart-pumping, fast-playing game of skilled card play & dice manipulation that will have your game nights cheering! – Roxley Games
The game is great fun, it is a simple enough idea. You have a unique character who rolls a set of dice unique to them. The results from these dice let you activate a number of different abilities. You will use these in 1v1, 2v2, 3v3, 2v2v2, or free-for-all fights. As you go you will upgrade your abilities and use once off cards from your characters deck.
Handily of course this set goes together perfectly with Season 1. This gives you 12 – 14 different heroes to play with before you even double up on sets.
Kickstarter value

Picture belongs to Roxley Games
When looking for the value of a Kickstarter I always look at what the lowest buy in point for the game is (€15 in this case). Pretty solid value for this game, you get two of the characters. This lets you play it separately or add it to an existing set.
If you jump up to the Season Pass level (for €45) you get all eight characters plus the stretch goals. Of which there are quite a lot. Extra characters and card upgrades galore.
Conclusion

Picture belongs to Roxley Games
Seems pretty a no-brainer to jump into this one. Personally I have loved Season 1 and it is a regular at game nights around mine. It is fun, quick and doesn't require a laser focus.
=][=
What do you think? Are there any other Kickstarters you think we should review?