Malifaux:Smoke and Mirrors
We have another visit to the painting mind of Tim the Viking. First a little about him and why he chose this model:
"I started off with Games Workshop (as most do!) young young, painting Dark Elves. From then as per the usual progression, picking up all the armies and painting about a 3rd of the bought models. I play Warmahordes, trollkin and love the painting. I have recently started playing Malifaux and have fallen in love with the model details and the game in general. Cards!!! I'm cursed with dice. The tactical side of Malifaux is something that I have missed so far and for the cheap starting price of the game I would. Recommend it to anyone."
Tim:
This model is from the Malifaux range, mannequin from the Smoke and Mirrors Wryd boxset with Colettes crew.
All paints I have used are from the citadel range including older selections!
I started off with undercoating the model skull white, making sure that the spray remained a good distance away from the model and getting a very fine layer instead of blobbing up and taking away the fine detail in this model.
I then base painted the clothing with Base – daemonette hide, watering down the paint slightly to get a smooth and thin layer. I did this twice as the undercoat could still be seen. It is better to apply multiple thin layers as the base layer will not pool.
I control the paint on my brush by always using a palette and dragging the brush through the paint and twisting out the other side, so I have the correct amount of paint and also a fine tip for my brush.
I then used Base – Steel legion drab for the "skin" of the model. This only needed one thin layer as I'm aiming to have a multi layered "worn" look at the end.
The clothing then had an overall wash of Shade druchii violet. The skin had a wash of Shade reikland fleshade. The washes I leave for 30 minutes to dry as then I can guarantee they will not bleed into the layering phase!
The clothing then was re-painted with Base – Daemonette hide, carefully picking out the higher material and leaving the darker resess.
This was followed by a highlight from Layer – xereus purple picking out the material that has folds or a higher profile. On the square panels of the skirt I painted the majority of the area but left a small area around the edges.
For the final highlight on the clothing I used Layer – genestealer purple to pick out the extreme edges and large areas.
The shade and layering stage was then repeated but with smaller areas being picked out.
The skin was then painted with two layers of thin Base – Steel legion drab and then two watered down layers of Kommando khaki. This was then followed by another wash of Shade reikland fleshade then highlighted with watered Kommando Khaki picking out the raised areas.
To finish off I took a very fine detail brush and with Abaddon Black detailed stitches on the "skin". I did this by having very little paint on the brush and carefully drawing the tip over the area.
The ribbons were then painted with base Averland sunset and highlighted with Layer flash gitz yellow.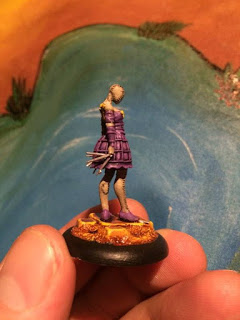 Smoke and Mirrors Wryd boxset Mannequin finished
The Base was painted with Base – Averland Sunset and then washed with Shade reikland fleshade several times.
For all layering I watered down the paints 2:1 paint/water so the layers came out smooth. Lots of thin layers are much better than 1 thick blobby layer.
Base – daemonette hide
Layer xereus purple
Layer genestealer purple
Shade druchii violet
Base steel legion drab
Kommando khaki
Shade reikland fleshade
Kommando khaki
Base Abaddon Black
Base aver land sunset
Shade reikland fleshade