We all know how I love a good community event, but I usually miss the start of them. This time I managed to catch one just in time! Welcome to #Junestealer, a month long event focused on Genestealers. As I am on a Xenos kick and in particular a Tyranid one. Although most of that has been on the Instagram. More information on the event is available below at the Warpshadow account.
So my #Junestealer pledge is a pack of 9 Genestealers, mainly as that is what I had built. Well I say built but these are rescues, as much of Tyranids are. These poor creatures were built with a full set of mold lines, they were everywhere. It took more time to clean them all out than building from scratch. Hopefully they will be a bit happier now. As you can see there is a mix of weaponry and bio-mods in there but I took whatever was already on them.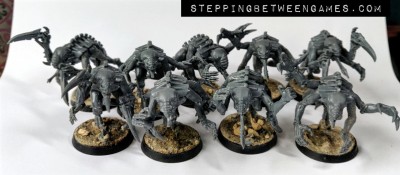 The bases are a simple mix of PVA or white glue and various grades of sand and rocks. It is a simple process but I think it works and will match what is on my Haruspex. Next up will be to get them sprayed and start laying down some base coats.
Will you take part in #Junestealer?