Hyperleague Racing is a tabletop racing game coming from an English developer called Mad Dad Games. The game will be hitting Kickstarter on July 20th and I was lucky enough to play it at the UK Games Expo. Enjoyable and quick paced game. Now let's jump into the interview. The art for the game is done by Ruth Keattch (or on Instagram).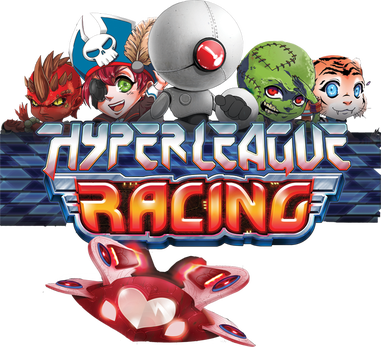 Who are Mad Dad Games?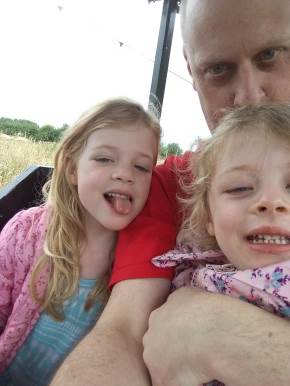 Andy T is a father of 2 daughters who love gaming and over the last few years has been making simple games for them to play. One day, his loving wife, a kindly friend and most importantly… his 6 year old daughter placed a crazy idea in his brain that he should start to develop some of these in to actual games that other people could play.
After writing and running the award winning Shadow Wars Live Role-Play system for 10 years, Andy decided to get back to miniature board gaming and over the last few years has developed some excellent friends throughout the gaming industry here in the Midlands. Andy plays Burrows and Badgers, Guild Ball, Shadespire
, Pokémon (I get smashed by my 6 year old regularly), Dungeons and Dragons, several role-play games and frankly, any games that my 4 and 6 year old daughters fancy having a go at!
Now to stop talking about myself in the 3rd person and answer the question; "Why did I call myself Mad-Dad Games?"
The name actually represents the journey I am on; being a father suffering with anxiety and depression.
I have suffered from anxiety and depression for about as long as I can remember. In the last 3 years alone I have harmed myself several times or got perilously close to suicide. Not many people know that I have been on medication, seen a psychologist regularly or been involved in group therapy but all these things have been a part of my regular day to day activity.
I constantly remind myself of the family and good friends who support me and although I find it hard to tell them, I love them dearly. Since mid-2017, I have found new ways to cope through C.B.T and through mindfulness and for the first time since my teenage years, I feel like there is a light at the end of the tunnel.
It's this last paragraph that is the most important. I have always wanted to do something like Mad-Dad Games but my anxiety has always got in the way. With my new found mindfulness techniques, I'm slowly tackling my anxiety and making Hyperleague Racing a reality and beyond that, who knows!
What is Hyperleague Racing?
Hyperleague Racing is a table-top game inspired by a love of racing style video games like Mario Kart
and Crash Team Racing amongst others.
Players become the pilots in highly customisable intergalactic racing leagues where they fly between race markers while swinging round moons, asteroids, black holes and other space themed terrain while performing a range of tricks and manoeuvres to get ahead or better still, crash their rivals in to space junk!
In the standard game, players either play as individual racers of their own design or use one of the pre-generated All-Star racers in 'all against all' 2-4 player action. Options exist to also play as a pair of racers racing against other pairs, demolition derby and a fun version affectionately called Puzzle Racer Turbo.
In Championship Mode however, the player takes the role of a fresh faced racer from one of the factions and as the campaign progresses, the pilot gains Championship Points to spend on upgrading their pilot, ship or garage.
Each turn, players activate their racer and make a simple race action followed by up to 3 manoeuvres and then a trick. A typical player turn takes minutes and every action is a balance of risk vs. reward. This creates a straight forward but fast paced balanced game that suits gamers that like a game that can be played quickly as a fun 30 minute blast or by players that want a more tactical game.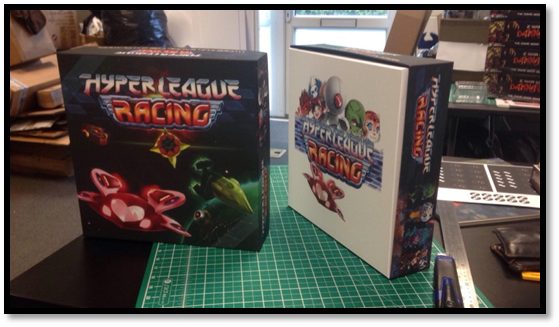 What sort of things should we expect to see in your Kickstarter?
Pretty simple really, there will be 4 backer levels raging for donation only to essentially what is a pre-order for the game. The maximum pledge will be £50 pounds and this will include U.K. shipping.
The game itself will come with 4 one piece coloured resin ships with bases, A5 rulebook, A5 All-Star cards, punchcard tokens and terrain and a roughly 2×2 board to get you started with. Basically, I want everything you need to play a basic 2v2 game of Hyperleague to be in the box.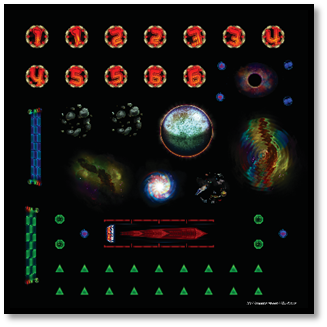 Do you plan on more expansions for Hyperleague Racing?
There are already two expansions that are scripted and All-Star Artwork completed for. Truth is that in order to make these a thing, I will need to generate around an extra 1-2 thousand pounds so at the minute they are on the back burner to see what happens with the core game.
One is The Ursian Armed Coalition, a more militaristic faction that forms the backbone of Sector 98's armed forces even though the lasting peace in sector 98 doesn't look like it will end anytime soon. Expect a new range of slightly illegal tricks that focus heavily on crashing opponents with a range of weird weaponry re-purposed for Hyperleague Racing.
The other is The Dread Armada! A former pirate fleet that have been reasoned with and now perform a police like function within the sector. Expect them to bring a range of extreme handling tricks and a few suprises 😉
Will we see any other games from Mad Dad Games?
I have written a card game for Word Forge Games based on their Devils Run IP. That has gone down really well but I'm not sure on the timeline behind getting that done.
On the Mad-Dad side, I have written a castle defence game and also a dungeon crawler. The honest answer as to whether you will ever see those in print will depend heavily on whether Hyperleague Racing is a success or not. I am just a guy and don't have the budget of larger companies.
Pineapple on pizza, good or bad?
No…
Never…
If this was the year 40'000… A Deathwatch Kill-Team would turn up and burn it for heresy.