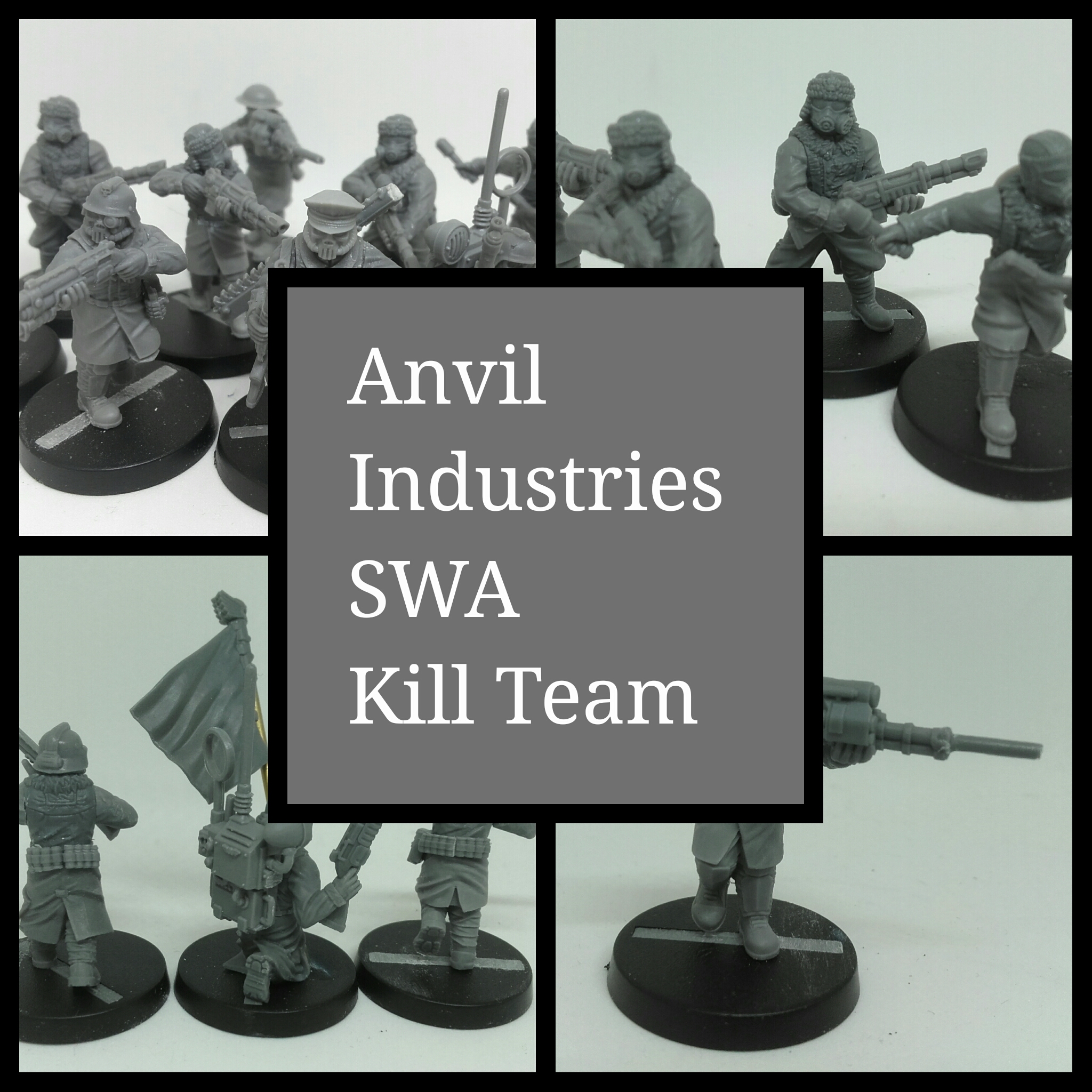 Time to enter the Shadow War of Armageddon! Since this game came out I have spent for too much time creating lists for it. But with Anvil Industry I finally had a chance to build a list I wanted for it, see the end of the post for the list itself. I wanted a mob of insane Guardsmen, a bit of a dirty dozen vibe (or rather dirty 9).
Enter Anvil's Trench Fighters line and oh what fun they are to play with. Full disclosure on this, I got sent a set of ten to review and so this is also a review. These models have some great character to themselves and could easily see a full army out of them. The models came with very little flash and what little there was could be rubbed off with a finger.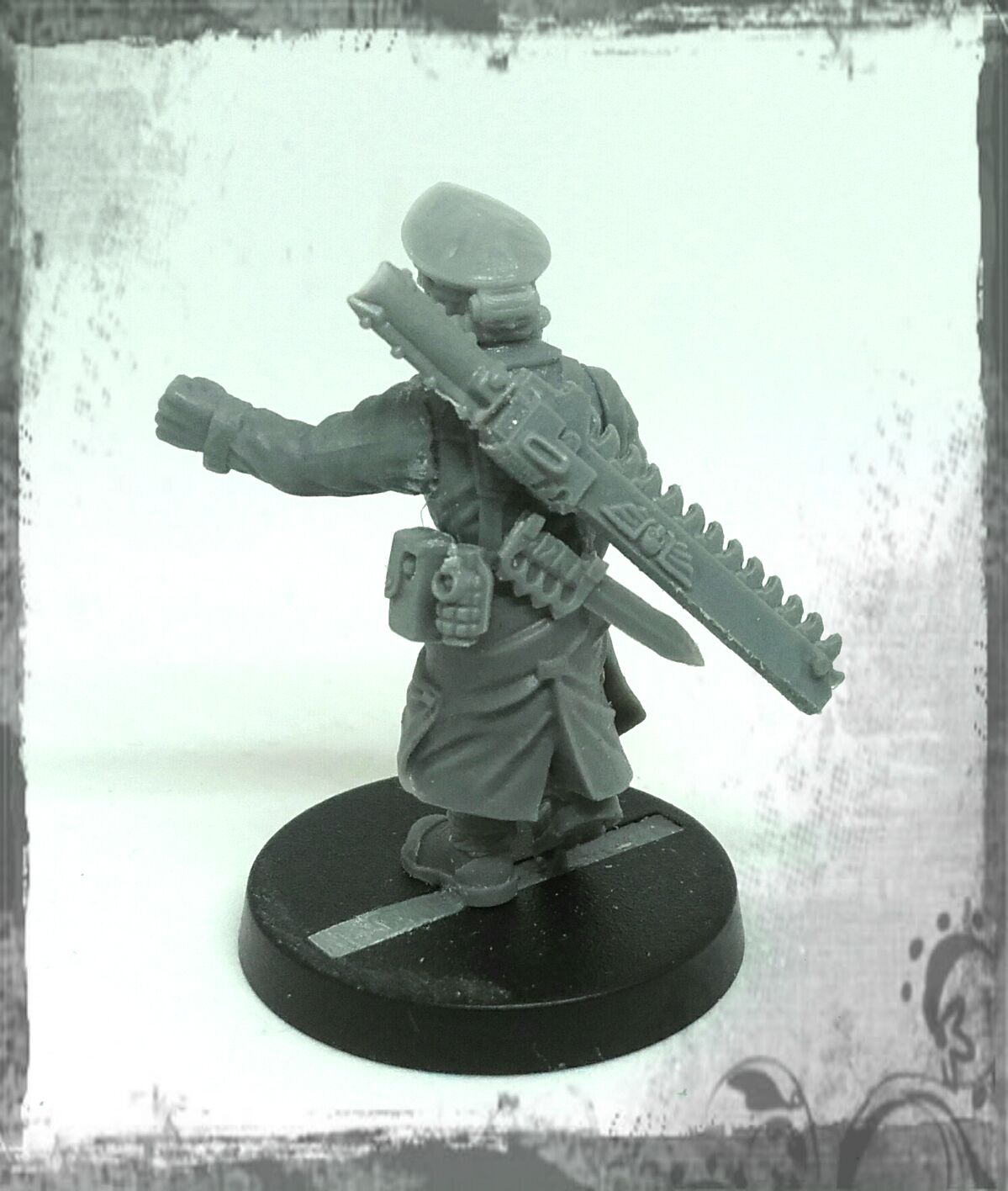 The one thing the set was missing for me was close combat weapons, but that was just the sample I was sent. So Sargeant Borris here has a chainsword with a quick handle I improvised after removing someone elses hand. It was a bit of an odd choice, I think, to go with slotta bases but we will see how well they get covered up during painting.
Everything when together smoothly for me and I got to play with a variety of options on the sprues. Including spare shotgun ammo, which helped fix up the rather blank area across the back of the models. I loved the metal banner piece, so much easier to avoid bending it.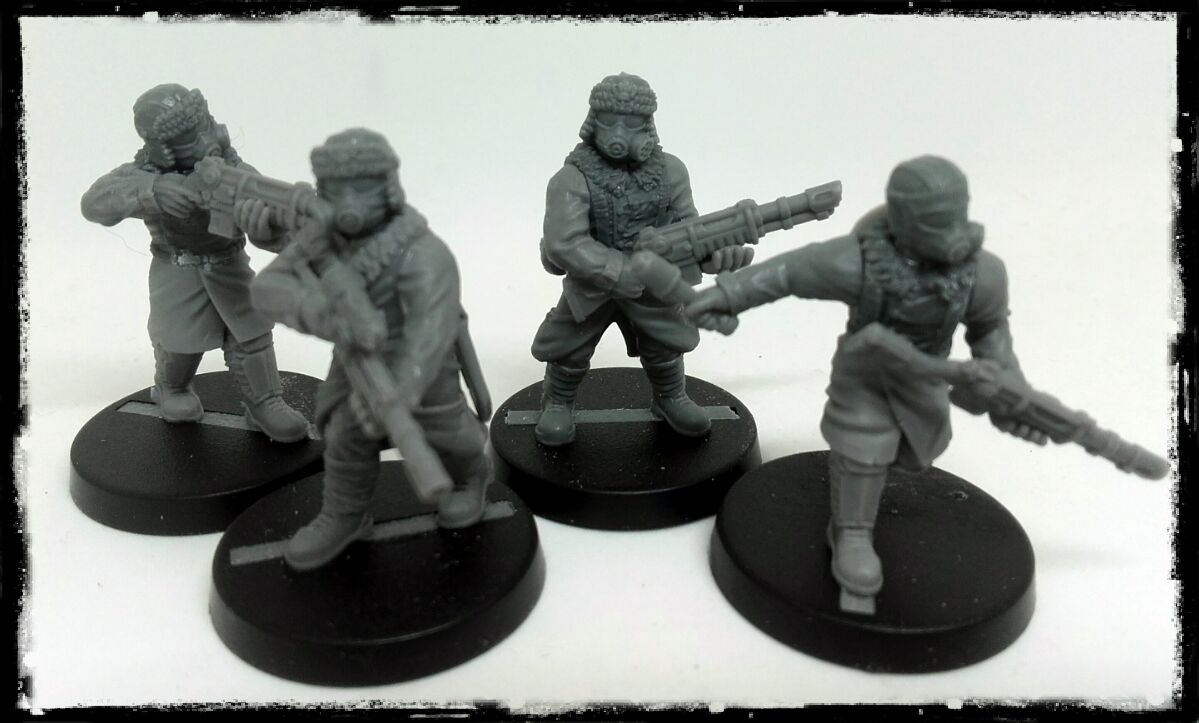 After spotting the arm throwing the old stick grenade I had to include one, and pay the costs for it and all. But these four models form the core of the kill team, I like the solid look of them. The arms mostly come in the traditonal gun across chest look but as you can see from these you have a fair amount to play with.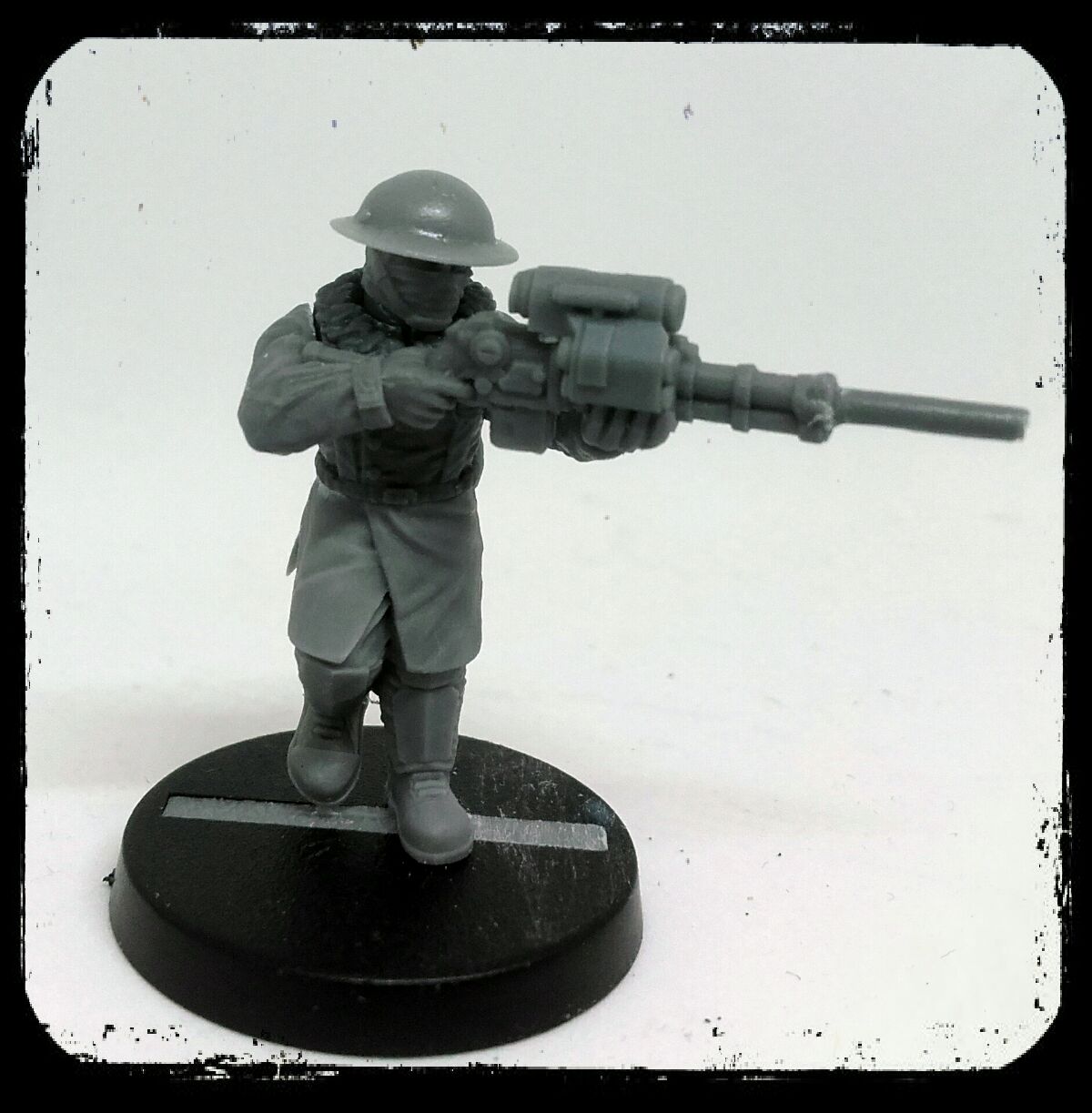 This fella is the designated sniper of the group, to help him stand out I useda completly different variation head and thermal scope. I then extended his rifle with a piece of carefully snipped sprue.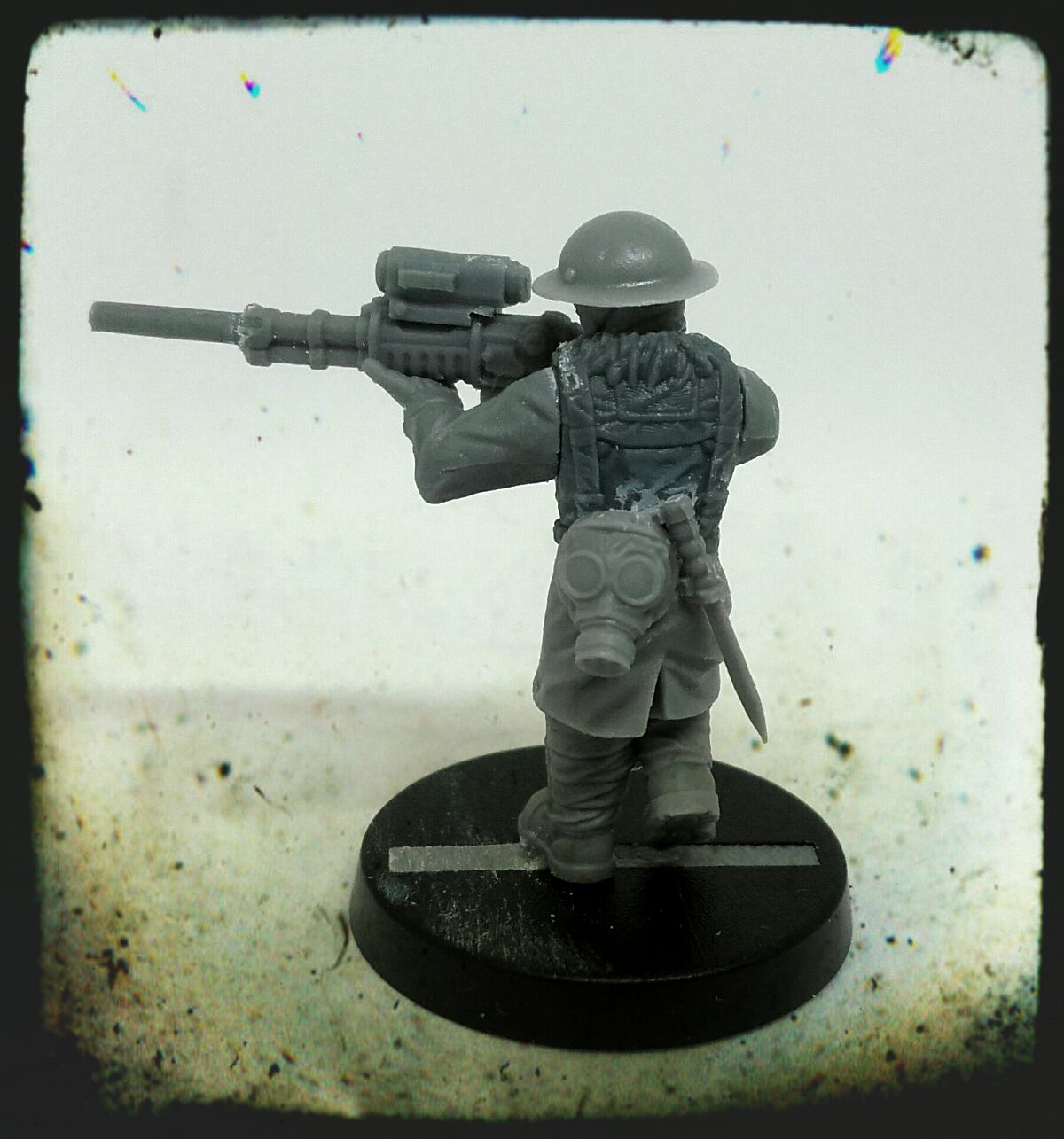 Now for the actual squad write up. It has 35 points to spare that I need to figure out but I am pretty happy with it so far. The Sargeant and a shotgun veteran split off into one team and the other two shotgun vets go the other way. The lasgunners move in two man teams and the sniper covers every one.
Recon Team Wolfbear — Astra Militarum — 965 points
Veteran Sergeant — Carapace armour (20), Chainsword (25), Shotgun (20)
Special Weapons Operative — Camo gear (5), Sniper rifle (40), Red-dot laser sight (20), Weapon reload (20)
Veteran Guardsman — Shotgun (20)
Veteran Guardsman — Shotgun (20)
Veteran Guardsman — Shotgun (20)
Guardsman — Lasgun (25), Hotshot laser power pack (15), Frag grenades (25)
Guardsman — Lasgun (25), Hotshot laser power pack (15)
Guardsman — Lasgun (25), Hotshot laser power pack (15)
Guardsman — Lasgun (25), Hotshot laser power pack (15)