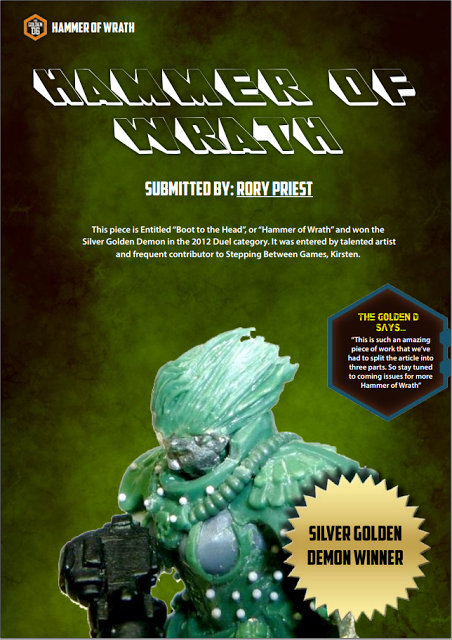 Boot to the head!
The first article I of course jumped to was Kirstens Hammer of Wrath. They do a good run down of the article and some clever use of the pictures. This is a split treatment as there is just too much in the series for just one episode. I look forward to seeing how it comes out.
I have been fascinated with Malifaux for a long time so it was great to see an intro article about it, with bonus pictures of creepy teddy bear things. Actually when I look at it there are quite a lot of very creepy looking pictures, which fits in with the strange nature of the Malifaux world. I learned a few pieces more about the game than I knew before.
They don't use dice people! How do they do that?!
Some of you know I have been slowly collecting an Ork army over time, mostly free plastics from Assault on Black Reach. Now this tutorial goes a little further than I am going to go on the average Ork Boy but it does come with a lot of fun tips otherwise. It is well documented and painted.
Apart from all that it has:
– A guide to writing scenarios for the zombie apocalypse.
– How to magnetise an Imperial Knight.
– Scenery tutorial for a stunning set of fantasy crypts.
– Warhammer Fantasy battle.
– Review of Dark Age,
– Some Bolt Action minis
and more.
Time is ticking.