State of my gaming nation: Blog update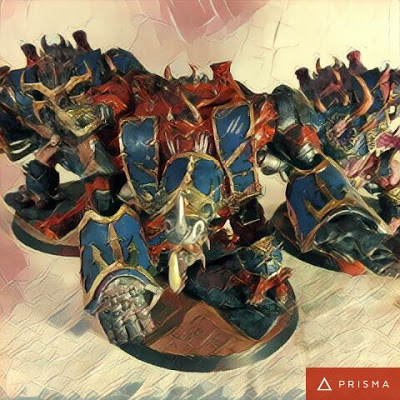 So just a quick blog today saying what I have on the go and
where I am with my projects at the moment. With an invitation from Joe over at
Brokenpaintbrush for a guest article and my
ongoing work over with other people much better at me at Gameronomy.
One Rhino more and I have everything I planned
to build for my Thousand Sons, the Host of Remembrance. There are things I want
to add to them but they are down the line because funds, but they include:
-Converted
Obliterators
Cabal
trio from the Black Legion… on bikes.
Some
spawn, with Mark of Tzeentch as well because I am the worst power gamer.
Another
Forgefiend and a Warpsmith for the other Black Legion formation, BS5 Forgefiend…
mmmm.
"Occursus Malus" – my Chaos Knight, it roughly
translates to Corrupted Onslaught. This is slowly coming together, with lots of
research as I don't want to mess it up and doubt I could do it a second time.
Plus it is really hard to build a knight from scratch, I get tempted by bit
sites but that way lies pricey things.
Getting the band back together! Now that I have
Doomrider done I kind of want a band to bimble around with him through the
Warp, with guitar looking sonic blasters and a Rhino decked out in speakers.
Maybe a drum kit.
Orks! Who doesn't want an Ork army? They are so
much and I have a collection of pieces from a couple of good friends to be put
to use into a small starter army.
Very tempted to do a Eldar Wraithhost army as it
includes pretty much all of my favourite Eldar models and I could play with the
airbrush a lot on it. But that is also a touch expensive.
Over at Gameronomy I am working on a large set
of miniatures from Zombiecide Black Plague, which can be quite fun to pick up
and paint. Plus a lot of them are fairly unique so I don't need to do the same
model several dozen times. Hopefully I will get some comments over there when I
start regular posting.
Apart from the the idea of getting a Lucius gang for
Malifaux, putting together a Magnus the Traitor army for Warmachine and playing
with mecha in Infinity all appeal. So many choices, so little time and money.
How are your goals at the moment?