Gaming challenges and sleep is for the weak
I thought I would keep things up to date here, but since that failed here is the latest re-cap.
I now have a even dozen additional game ideas brewing away but I am forcing myself to keep them to rather limited. Until such time as I have a new revision of [Current Game] done I am leaving the other details to a minimum.
Meanwhile the current project is gaining speed and will be hitting some more play testing this weekend at
Gaelcon
. I have been doing up all the cards and tiles for the run through. I have been drawing up bits of art to spread around the cards, my sketchings aren't up the scratch with the fellow I have doing the actual artwork.
Here is a sneak preview: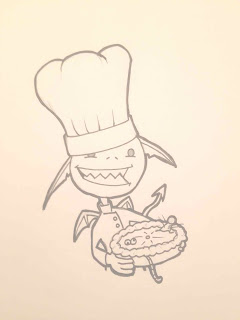 More information to come after the convention. You stay classy.